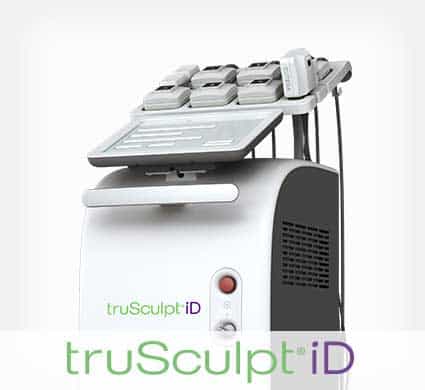 Do you eat well and exercise, but are still frustrated by problem areas on your body that you just can't seem to get rid of?  With TruSculpt® iD we can decrease circumference and diminish unwanted pockets of fat- with no surgery and no downtime. The treated area may have some mild sensitivity to the touch for a few days post, however, activities and normal exercise can be immediately resumed. 
We are proud to offer the most effective body sculpting and skin tightening- all in one.  TruSculpt® iD's technology features a temperature feedback mechanism that allows targeted, repeatable and uniform heating of the subcutaneous fat layer, while maintaining lower average surface temperatures. Most describe the feeling as that of a hot stone massage. 
This multi-dimensional approach to body sculpting and circumferential reduction allows the highest clinical efficacy when it comes to eliminating targeted fat cells, typically in a 15 – 30 minute treatment time. The fat cells are then destroyed and disposed of by the body over a 3 month period. We recommend staying hydrated prior to and post treatment. Drinking water will help flush the fat cells as they break down over time. 
TruSculpt® iD is ideal for removing those pockets of fat that stubbornly remain, despite a good diet and regular exercise. The truSculpt® iD system is also used for the temporary reduction of the appearance of cellulite. Compared to older, alternative approaches such as freezing and ultrasound, truSculpt® iD is more comfortable, faster and it even tightens the skin- which is not the case for other devices on the market. Visible results are typically seen up to 12 weeks after a single treatment. 
What is TruSculpt® iD?
TruSculpt® iD is the newest advancement in circumferential reduction and non-surgical body sculpting that offers an average of 24% fat reduction in a single treatment (up to 38% as measured by ultrasound). It is radio frequency (RF) technology that delivers deep heating energy to adipose tissue for body contouring. RF energy has the ability to surpass the surface of the skin and target underlying fat cells without damaging or injuring surrounding skin, connective tissues, nerves or blood vessels. Once underneath the skin, the radio frequency energy converts to gentle heat, destroying fat cells in the subcutaneous layer. In essence, TruSculpt® iD will help you reduce fat, improve body contour and aid in your weight loss goals. 
What areas can TruSculpt® iD treat? 
This safe and comfortable treatment can be used on multiple areas of the body including the abdomen, flanks, thighs, knees, arms, buttocks, back, chin, jawline and more. All skin types can be treated and can be done over tattoos as well. 
*NOTE: All self tanning products must be completely faded/exfoliated from the area that will be treated, prior to your procedure. It is recommended to avoid self tanner use for 2 weeks prior. 
Who is a good candidate for TruSculpt® iD? 
Because TruSculpt® iD is a customized and tailored treatment to meet individual needs, most are good candidates (must be over 18 years of age). During your consultation, Kendra will evaluate you individually and determine if TruSculpt® iD is right for you. 
*Please note: If you are prone to the herpes simplex virus or have ever had shingles on or near the area you want treated, you should discuss this with us at your consultation. This procedure is not recommended if you are pregnant, trying to get pregnant or are breast feeding. RF procedures are contraindicated for those with pacemakers or defibrillators.