Kendra offers a few of her favorite chemical peels, that vary from mild to mid-level in depth.
Chemical peels are used for the improvement of dull/dry skin, brown spots, freckles, mild acne scars, fine lines, and superficial blemishes. They also bring forth healthy, glowing skin. Peels can help boost absorption of at home products, which in turn, results in better efficacy. Even your makeup will look smoother and wear better!
Superficial peels, such as a Glycolic Peel, require no downtime. They instantly give an amazing glow and skin looks firmer.
The benefits of undergoing a glycolic peel seem endless. Glycolic acid is derived from sugarcane and is the smallest molecular alpha hydroxy available, which means it penetrates deep to reform texture and dullness. It also stimulates natural collagen production, along with diminishing the appearance of fine lines and wrinkles over time.
Glycolic can help lighten mild freckles and brown spots, and is beneficial in lessening blackheads, whiteheads, and acne, by gently dissolving dead skin cells. Though it is considered a "peel" there is no downtime and makeup can be worn immediately after. It is suggested to avoid use of topical products containing alpha/beta hydroxy acids or retinols for 24-48 hours before and after. Clients should also be cautious when exposing skin to UV rays for a few days post and an SPF 30 or higher is always recommended.
Glycolic Acid Facial- $85
Glycolic "Red Carpet" Facial- $275 (Glycolic peel with Laser Genesis skin rejuvenation)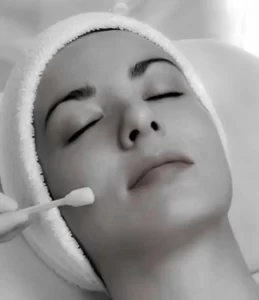 For deeper peels, such as TCA and Jessners, flaking or peeling
generally starts around the mouth about 3 days after the peel has been applied. These can take 7-10 days to shed the dead skin. Depth of peel can be customized and will determine the amount of downtime or exfoliation post.
These peels are considered mild to moderate in depth, depending on how many layers are applied. Great for improving discoloration, texture, and tone- also beneficial in reducing fine lines, wrinkles, and large pores. All of our peels can be done on face and body.
TCA and Jessners Peel- starting $125-$175
(prices vary per area based on depth and size of area treated)
We will discuss your individual concerns at your consultation and customize a plan to achieve your desired results and benefits. We have peels for all skin types.
Who Is Not A Good Candidate?
You should discuss with us prior, if any of the following apply to you:
*If pregnant, trying to become pregnant or are breastfeeding
*If currently taking Isotretinoin or Accutane (must be off of this medication for at least
  6 months)
*If you currently have any skin allergy, infection or active cold sores on area to be treated
*Darker skin types may require a 2 week pre-treatment of a tyrosinase inhibitor, which will be discussed at your consultation
The recovery after a chemical peel differs from one person to the next, and can vary based on depth of your peel. Aftercare instructions will guide you in taking care of your skin post procedure. Skin will certainly be more sun-sensitive, and will sunburn much faster, especially if SPF is not worn. It is important to follow any post-care instructions and to use gentle creams, ointments and cleansers as directed.
After getting a deeper chemical peel, you may be asked to avoid wearing makeup for a week post or until peeling is done. SPF 30 or higher is always recommended to protect your investment.