LASER GENESIS Skin Rejuvenation
Kendra has been treating clients with Laser Genesis skin rejuvenation for well over 15 years. This gold-standard treatment offers so much to so many, and our clients absolutely love it! A popular treatment among men and women of all skin types, it offers long-lasting, anti-aging and rejuvenating effects, without any downtime or pain.
Laser Genesis is FDA approved for wrinkle reduction, including, but not limited to, periocular and perioral wrinkles. While increasing collagen and elastin production, this laser is excellent in reducing fine lines, large pores, mild scarring, crepey skin and textural issues, as well as acne breakouts. Laser Genesis is very effective in treating redness associated with rosacea and helps lessen redness in scars.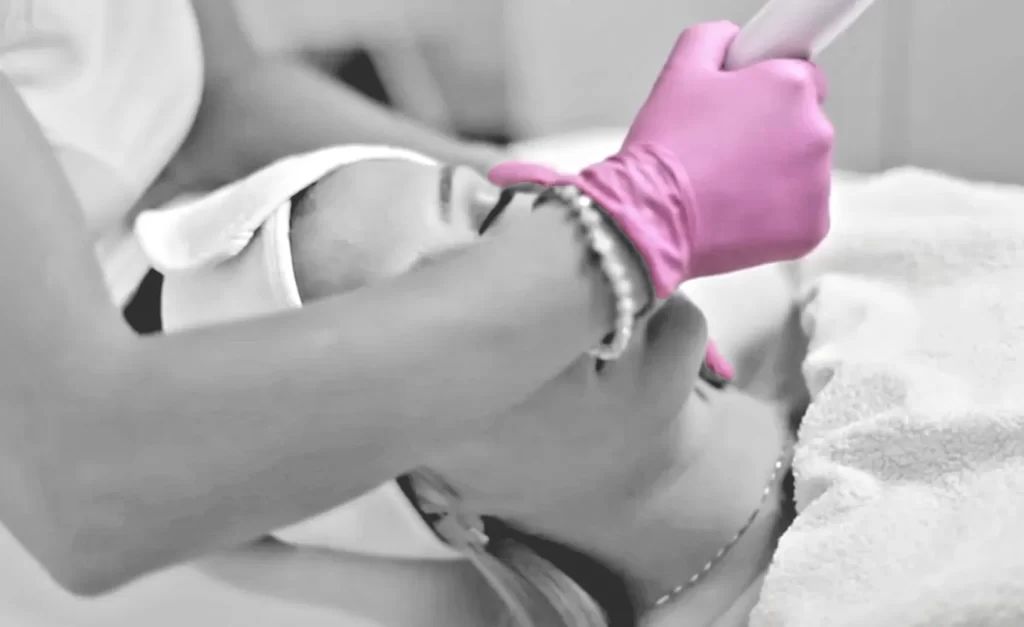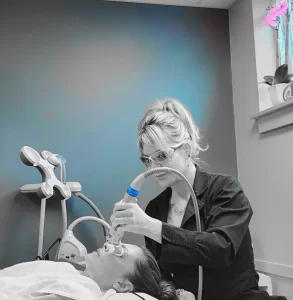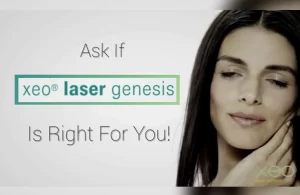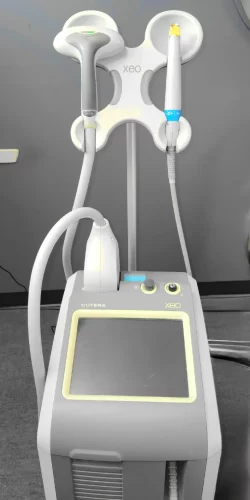 How does Laser Genesis work?
Laser Genesis utilizes long-pulsed 1064 Nd:YAG laser and it works by gently heating the dermis, just below the skin's surface, to stimulate collagen production. Natural collagen production starts to slow down and diminish in our early 30's and is the reason we lose elasticity, volume, and tone. In addition to increased collagen production, the heat from the laser helps to constrict and reabsorb tiny broken blood vessels, which reduces signs of facial redness and rosacea, and kills bacteria under the skin reducing acne breakouts. 1064 Nd:YAG is also very effective in treating unwanted hair with color, small spider veins and cherry angiomas.
The Laser Genesis handpiece is moved over the targeted area in a repetitive motion, creating a comfortable and relaxing sensation, like a warm ray of sunshine. The results are immediate, as the skin will appear firmer with a healthy glow- all with no downtime!
For optimal results, Laser Genesis also pairs well with several other anti-aging and rejuvenation treatments, such as customized facials, a glycolic or jessners peel, dermaplaning, RF microneedling and profractional laser.
What do I need to know before my Laser Genesis treatment?
Laser Genesis cannot be performed on skin that is sunburned and should not be used if a client is experiencing a current outbreak of herpes or shingles. Self-tanner use on area to be treated, should be avoided about two weeks prior to your Laser Genesis treatment. Discontinue the use of any topical medications three to five days prior, if able. (Retin-A, Triluma, Differin, etc.) Clients should not be on an oral Isotretinion (Accutane) and must be off such medication for at least 6 months before having any laser treatment. Please discuss this with us at your consultation if you are not sure. It is recommended to shave coarse facial hair just prior to appointment, if treatment is desired over bearded area. These treatments may reduce the growth of facial hair, which may also result in less blemishes due to the hair being in-grown.
Does Laser Genesis hurt?
You'll be happy to know that Laser Genesis is a non-invasive treatment free of pain or discomfort. Many clients say the experience is similar to sitting out in the sun and find it quite relaxing. During the treatment, you will feel a gentle warmness on the treated area and most describe it as soothing.
Is Laser Genesis safe?
This treatment is extremely safe when performed by an experienced Medical Aesthetician or Physician Assistant. It is non-invasive and generally produces minimal side effects. The most common side effect is temporary redness post-treatment, similar to a good workout!
What kind of textural improvements can you expect with Laser Genesis skin therapy?
Over the course of your treatments, Laser Genesis can help restore your skin's youthful glow and appearance by smoothing out uneven texture caused by aging, sun damage or scars. You will see a healthier complexion, as large pores are reduced in size, and minor imperfections are diminished.
The individual treatment results are subtle, but the overall effect of multiple treatments can be quite dramatic.
What is diffuse redness?
This condition is caused by dilated capillaries, resulting in an appearance of general redness. The most commonly affected areas are the nose, forehead, and cheeks. Diffuse redness is often associated with a condition called rosacea, which Laser Genesis is effective at treating. This condition can also be hereditary, resulting in the appearance of premature aging. Kendra can help you narrow down what may be flaring-up your rosacea. In severe cases, clients may be recommended to talk to their dermatologist about medication options as well.
What should I know after the treatment?
Laser Genesis is a great "lunchtime" procedure, as you can expect minimal downtime. Sessions take about 15-20 minutes when treating face/neck. You can resume your normal schedule directly after and makeup can be applied, if needed. Unlike other, more aggressive laser treatments, there is no peeling or burning associated with Laser Genesis.
While the aging process never stops, there are a few things you can do at home to maximize your results, such as following an effective at-home skincare routine. It is critical to protect your skin from the sun with an SPF 30 or higher, and this is recommended when leaving the house, all year long! Eighty percent of all wrinkles come directly from UV rays, as it breaks down collagen- the support structure of your skin.
How long do results last with Laser Genesis?
After the treatment, you will notice an immediate glow and will begin to see pores shrink and texture soften. Sessions may be recommended at 2-4 week intervals, as each treatment accelerates collagen production for about 3-4 weeks post. Staying consistent with treatment will boost each session and visible change can continue for up to 6 months post. After that, treatments may be recommended periodically for maintenance. Though no laser procedure will stop the aging process, these treatments can certainly slow it down and reverse the signs of aging. The number of treatments vary, based on issue, correction needed and severity. At consultation, Kendra will discuss options for treatment, along with number of sessions recommended and packages can be made.
How often should I undergo a Laser Genesis treatment?
The number of Laser Genesis appointments depends on your skin type, condition, and desired aesthetic goals. Typically, we recommend patients undergo a series of 3-6 treatments over the course of a few months.
How do I know if I am a candidate?
Laser Genesis is an extremely safe procedure for men and women that is gentle enough to work on all skin types and ages. If your skincare concerns include diminishing fine lines, redness, scarring and improving skin tone, Laser Genesis may be an effective skincare treatment for you.
In your initial complimentary consultation, Kendra will go over your medical history, talk about your concerns and let you know what type of results you can expect from Laser Genesis.