Radiofrequency (RF) Microneedling
Potenza™ RF Microneedling is another innovative technology for tightening loose skin, on both the face, neck and body. As our bodies begin to produce less collagen with time, we notice facial skin appearing to sag and cheeks become sunken. When it comes to reversing the signs of aging, few systems compare to Potenza™ RF Microneedling. Utilizing micro-fine needles with radiofrequency, this incredible device can deliver fabulous anti-aging results with only 24-48 hours of mild redness or swelling post procedure.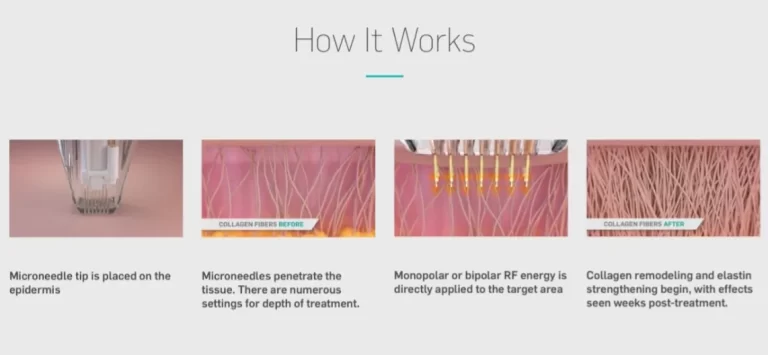 RF energy delivers heat deep into the underlying skin layers, causing constriction and tightening of the skin through soft tissue coagulation. The long-term benefits include the regeneration of collagen and elastin over time, delivering immediate improvement, as well as long-lasting results. This procedure helps correct mild to moderate wrinkles, lax skin and stretch marks on the body. The tiny pin-like needles penetrate the outer layer of skin, which forces healing at a more superficial level, as well. This added benefit also addresses textural issues, large pores and crepey skin.
Although RF Microneedling is not intended to treat sun damage, some may notice improvement in excess redness and broken blood vessels, as well as softening of brown sunspots.
Generally recommended to be done in a series of 3 sessions, done at 4 week intervals, for mild to moderate correction. Kendra may also customize a combination package of Potenza™ and TempSure® Envi or Laser Genesis done together, for those clients requiring more correction of deeper wrinkles and laxity. RF microneedling can also be done yearly, for those looking to maintain healthy looking skin and slow the visible signs of aging.
If seeking treatment to the neck area, we recommend wearing a button-down shirt or one with a wide neck. This allows for no restrictions to the base of the neck and because RF is a current, it requires a grounding pad that will be applied to upper back or torso. When having treatment on the body, it is suggested to wear loose clothing that will not create indentations in the skin. This will allow us to take accurate before pictures, as we document progress.
RF works with the water in your skin, so it is important to be well hydrated prior to your appointment. All jewelry that is removable on or near the area to be treated, should be done prior.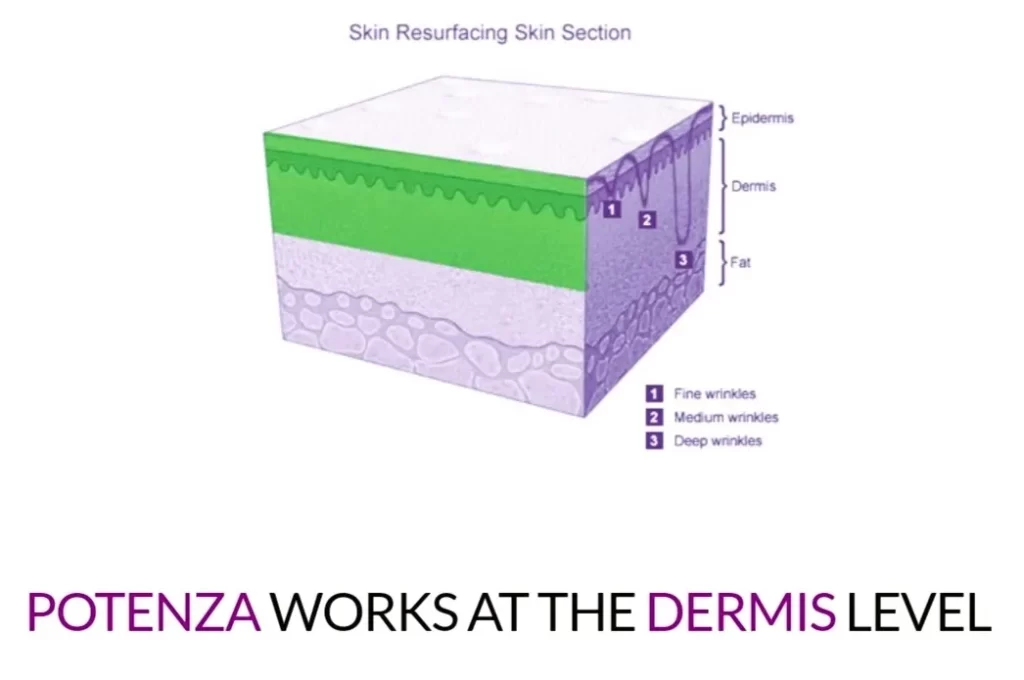 Post procedure, you can expect a mild sunburn sensation that usually subsides within a few hours. Mild redness and swelling may last for 24-48 hours, and most can resume normal activity and use of makeup within 24 hours.
Sun exposure should be limited for at least 1-2 weeks and use of an SPF 30 or higher should be reapplied at two hour intervals, to lessen chances of sunburn and collagen degradation.
Set up your consult today and let Kendra customize a series of treatments that's right for you!
*Please note: If you are prone to cold sores or have ever had shingles on or near the area you want treated, you should discuss this with us at your consultation. We suggest obtaining an oral prophylactic medication such as Acyclovir or Valtrex, to suppress the nerve track during your procedure, if you have history of either. These treatments are not recommended if you are pregnant, trying to get pregnant or are breast feeding. RF procedures are contraindicated for those with pacemakers or defibrillators, treatment over any metal implant or if you have taken Isotretinoin (Accutane) within the last 9 months. We suggest any vaccinations you may be seeking, be done 2 weeks prior to, or 2 weeks post treatment. If experiencing any signs of cold/flu/covid, you must let us know prior to your appointment, as we will not treat you if ill. You should also let us know asap if you are taking any antibiotics or steroids within 2 weeks of your procedure.