CO2 Laser Skin Resurfacing
Founded on the principles of healthy skin, our Med Spa offers the latest advances in anti-aging and skin rejuvenation. Carbon dioxide (CO2) laser skin resurfacing can be moderate to ablative in recovery, but results can also be very dramatic!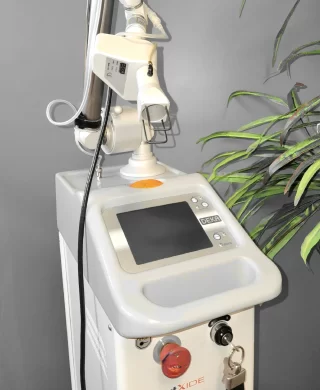 WHAT IS CO2 LASER RESURFACING?
The CO2 laser is an ablative laser treatment, which means that it will penetrate and partially remove the superficial epidermis (outer layer of skin). Due to its depth in treatment, it can effectively treat superficial skin flaws such as fine lines and wrinkles. CO2 can also greatly improve the appearance and texture of deeper age spots, while minimizing surgical and acne scars, as it retexturizes the skin.


HOW DOES CO2 LASER RESURFACING WORK?
Fractionated CO2 lasers create uniform injury to the skin in the designated treatment area. Numerous microscopic columns are precisely created within the thin outer layer of skin known as the epidermis, while the underlying skin known as the dermis is heated, which stimulates the growth of new collagen and elastin fibers. The newest generation of CO2 lasers use short-pulsed light energy delivered in a scanning pattern (fractional or pixels) to remove thin layers of skin with minimal heat damage to the surrounding areas. After the epidermis is healed, the treated area reveals smoother, tighter, more youthful looking skin.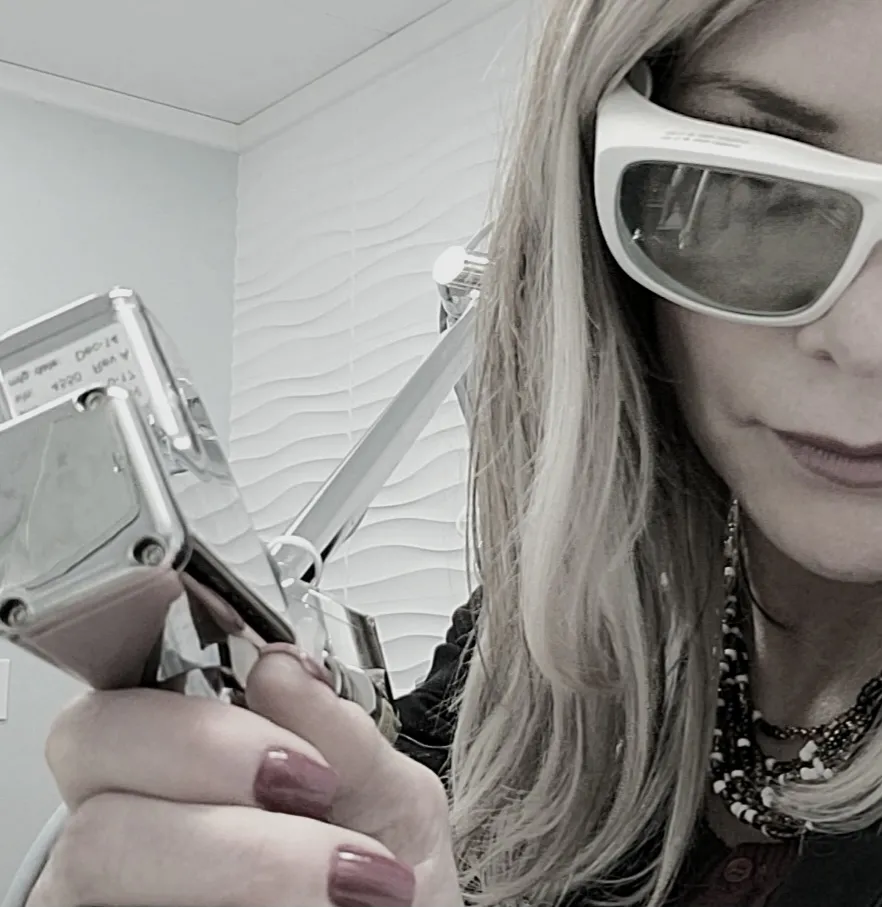 WHAT CAN CO2 LASER RESURFACING TREAT?
The fractionated CO2 laser excels at treating a wide range of skin issues for a range of skin types. Fractional lasers were originally developed to shorten recovery time and reduce the risk of side effects. If your skin suffers from any of the following issues, CO2 laser resurfacing may be ideal for you:
Wrinkles
Loose skin and crow's feet around eyes
Thick, congested skin
Age spots/Sun damage
Acne and surgical scars
Large Pores
Uneven skin tone
Before CO2 Laser Resurfacing Treatment
If you are opting to undergo CO2 laser resurfacing, it is highly recommended that you obtain the following prior to treatment:

CeraVe Healing Ointment, CeraVe Moisturizing Body Cream, a broad-spectrum mineral sunscreen SPF 30 or greater, such as Elta MD's UV Elements SPF44 or UV Physical SPF41.
All are shown below and can be purchased on Amazon or most drug stores. You will also need a few ice packs, white vinegar, and cotton balls.
Obtaining these items before treatment will help ensure your success post treatment. Additionally, we recommend that our clients avoid sun exposure, tanning beds, and tanning creams one month before treatment. For the month leading up to your treatment, apply a broad-spectrum sunblock of SPF 30 or greater when going outside- because if your treatment area is tanned, you may not be treated.
After CO2 Laser Resurfacing Treatment
When you undergo CO2 laser resurfacing at
aws
in Grand Ledge, there are specific steps to follow
during
and
after
the first 48 hours. Below, we've gone into detail regarding both:
During the first 48 hours after treatment:
White vinegar soaks: Mix 1 part white vinegar to 2 parts cool water in a bowl. Using cotton balls, apply white vinegar soak to treated areas every 2-3 hours until bedtime. You can store this mixture in a canning jar in the refrigerator. Follow with application of CeraVe Healing Ointment immediately after each soak. Ice packs can be used every two hours for 20 minutes maximum, for swelling and discomfort. *DO NOT use ice packs directly on skin, make sure to use a clean and soft wet wash cloth or dish cloth as a barrier around the ice or gel pack.
It is strongly advised not to make plans outside of your residence for at least 4-10 days post, as determined by depth of peel.
Keep your head elevated when lying down. If you can take acetaminophen (Tylenol) or pain relievers, they can be taken as directed, should they be necessary for more ablative peels.
After the first 48 hours post-treatment
Decrease the vinegar soaks to four times a day, for two additional days. Continue the CeraVe Healing Ointment. This will decrease the healing time and minimize discomfort, such as itching. Begin to apply sunscreen if leaving the house. Peeling generally starts about 3 days post around the mouth. Off face areas may take longer to peel.
Gently clean the skin once a day with fingertips, using a hypoallergenic or gentle cleanser (suggested at night if you've applied SPF that morning). Do not scrub the treatment area. Gently pat dry and re-apply the moisturizing ointment after washing.
For a few weeks, avoid sun exposure, as well as tanning beds and tanning creams. Kendra will advise further instruction based on depth of your peel. Use a broad-spectrum sunscreen SPF 30 or greater when the treatment area is exposed to the sun. If possible, provide treated area extra sun protection by wearing a hat, sunglasses, or clothing to reduce UV damage to fresh skin.
Keep all follow-up appointments to assess how the treatment is progressing. If your pain increases or there is any sign of infection, please contact Kendra immediately.
Please note
: If you are prone to cold sores or have ever had shingles on or near the area you want treated, you should discuss this with us at your consultation. We suggest obtaining an oral prophylactic medication such as Acyclovir or Valtrex, to suppress the nerve track during your procedure, if you have history of either. These treatments are not recommended if you are pregnant, trying to get pregnant or are breast feeding, or if you have taken Isotretinoin (Accutane) within the last 9 months. We suggest any vaccinations you may be seeking, be done 2 weeks prior to, or 2 weeks post treatment. If experiencing any signs of cold/flu/COVID, you must let us know
prior
to your appointment, as we will not treat you if ill. You should also let us know asap if you are taking any antibiotics or steroids within 2 weeks of your procedure.